Topic: RoV: New skin, Fire Blood: Rouie, a new look, a young dragon blood !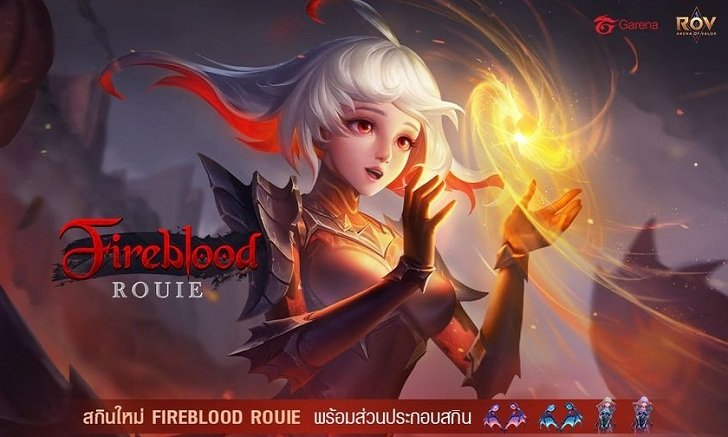 Hello dear RoV friends, of course, everyone. Must want to possess a beautiful skin, of course, that RoV did not disappoint us. Recently, RoV has released a very freaky skin of young Rouie, a young girl who opened the Warp door and can call them "United States" to the enemy now. She has already entered with a new concept, a dragon blood girl, of course, that is beautiful and most importantly, cheap !! The kind that everyone is tangible with Just friends, paying coupons and completing the conditions can easily get Rouie skins. Let's see the conditions together better how to do it.
SKIN Spotlight: Fireblood Rouie
Log-in 7 days, get it !! (Duration 2 February - 15 February 2021)
It is considered to have been in for a while with the Premier Pass, which is a conditional purchase model, but it is definitely cheap. The conditions are simple, when friends buy 35 coupons, friends will receive the right to receive Rouie, but we need to log-in all 7 days, which is not a very and difficult time, but any Caution is that if you buy it, you have to log-in, if you don't have all of it, but if you can, it's worth it, it won't be a problem for regulars.
Premier Pass Rewards
Coming to this level, not talking about the reward, what is it? Let's start to look at what 35 coupons we have received by the reward that is worth it because the skin that we will receive is a limited level. That can change the color, outfit and element of the skin According to our imagination as well, with all rewards as follows
Premier Pass Ticket + Day 1 Log-in Award Ticket = 1 Rune Fragment Box
Premier Pass Ticket + Day 2 Log-in Award Ticket = 100 Coupons Skin Discount.
Premier Pass Ticket + Day 3 Log-in Award Ticket = 1 Wing Element Summon Badge (Cobalt Dragon Wing / Inthanin Fire Wing)
Premier Pass Ticket + Day 4 Log-in Award Ticket = 2 Rune Fragment Boxes
Premier Pass Ticket + Day 5 Log-in Award Ticket = Rouie: Fire Blood Skin
Premier Pass Ticket + Day 6 Log-in Award Ticket = 3 Rune Fragment Boxes
Premier Pass Ticket + Day 7 Log-in Award Ticket = 1 Set Element Summon Badge (Blue Set, Cobalt Dragon Set / Purple Set, Inthanin Fire Set)
Blue Set Cobalt Dragon Set
Okay, my friends, let's review our knowledge of Rouie once again. Rouie is a support line that has skills that are useful to your teammates such as Stun, Movement Speed, and Gate Opener. Warp that can send friends back to increase blood at the fountain and increase the movement speed. Allows our friends to come back to the battlefield again, plus Rouie is a staunch Ultimate stance useful by summoning friends. Come to your own portal as well
Purple Set, Fire Inthanin Coffee
Role of Rouie
However, Rouie was also picked up by racers such as in the past Tournament AIC 2020, and Rouie's skill layout has a very strategic effect. Especially the offensive game that can make the game continuously In addition to putting pressure on the opponent well, it can also send injured friends. Continuously come back to pressure the opponent However, Rouie had a clear disadvantage in the defense. Only by getting attacked by the opponent in their own home. It made the Warp door open back home almost to no avail, resulting in Rouie not performing as well as it should have. But overall, she is still a support that should be watched as well, because if the opposing force is good, then To turn it back into a defensive game, it doesn't happen often.
Update more news information here >> ดาวน์โหลดjoker